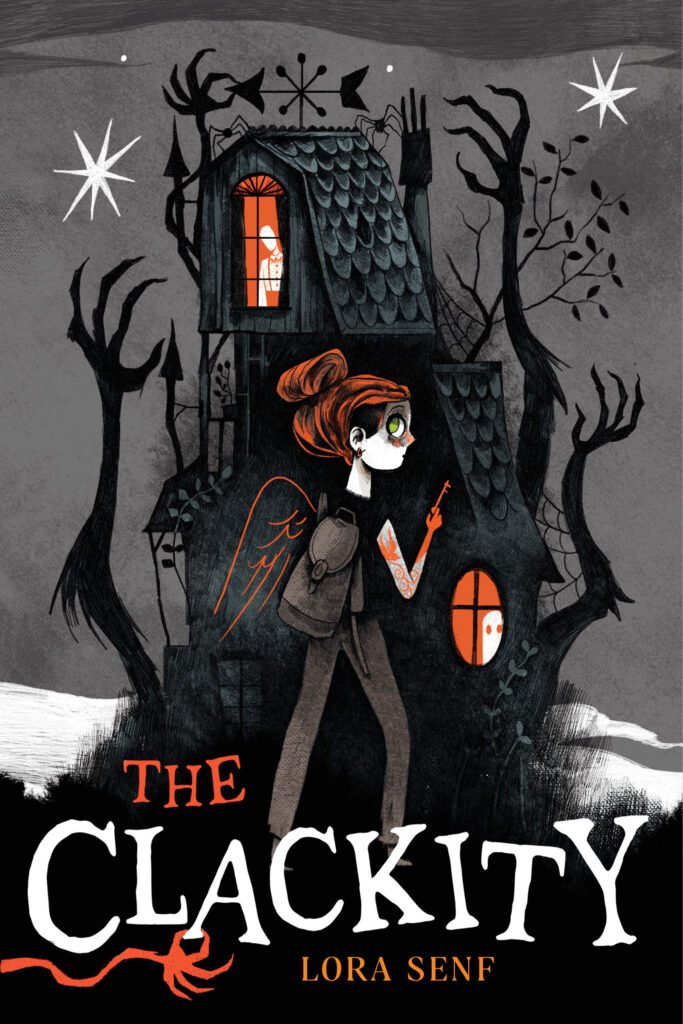 The first of the Blight Harbor Books, THE CLACKITY is a middle grade horror for fans of Coraline and City of Ghosts.
Nearly-thirteen-year-old Evie Von Rathe lives in Blight Harbor, the seventh-most haunted town in America (per capita). Her Aunt Desdemona, the local paranormal expert and otherworldly advice columnist, doesn't have many rules. One absolute, iron-clad rule is to stay out of the abandoned abattoir at the edge of town. Evie obeys – until she doesn't, following her aunt to the slaughterhouse one bright June day.
When her aunt disappears into the abattoir, Evie goes searching for her. There she meets The Clackity, a creature that lives in the shadows and seams of the slaughterhouse. The Clackity promises to help Evie get Desdemona back in exchange for the ghost of John Jeffrey Pope, a serial killer who stalked Blight Harbor a hundred years earlier, and who has unspeakable ties to the abattoir.
To find them both, Evie crosses through the abattoir to a strange neighborhood of seven houses. She must make her way through them, one by one, until she reaches the seventh house, and her aunt. The task sounds simple enough, except these aren't regular houses, and she's being followed by a dead man.
Save her aunt, escape a dead serial killer, and get them all back to The Clackity before the sun sets. None of it is going to be easy, especially with Evie's panic attacks, but the strange neighborhood plays by its own set of rules, and some of them might just be in Evie's favor.
🕷🕸🕷🕸🕷
The Clackity is a Junior Library Guild selection, a Cybils Award finalist in the Elementary/Middle Grade Speculative Fiction category, is on the New York Public Library's Best Books for Kids 2022 list, was the only middle grade title on Esquire's list of the 22 Best Horror Books of 2022, and is a nominee for the inaugural Bram Stoker Award for Superior Achievement in a Middle Grade Novel.